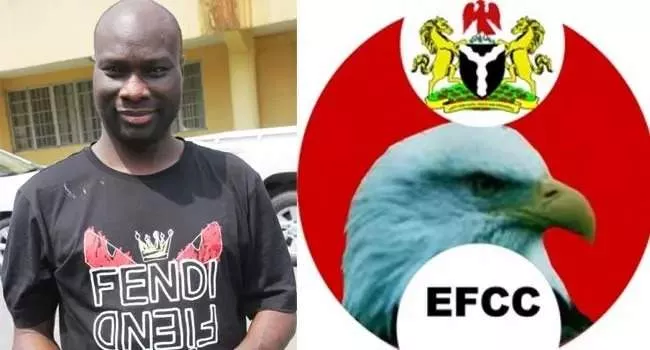 The Economic and Financial Crimes Commission (EFCC) on Monday May 15, said that social media celebrity, Ismaila Mustapha (alias Mompha), charged with N6 billion money laundering had been re-arrested.
A statement from the commission says during a hearing on Mompha's case on June 10, 2022, it informed the court that Mompha was in possession of another passport aside from the one submitted to the court, as part of his bail conditions, and that he had used same to travel from Ghana to Dubai on April 11, 2022 via Emirates Airlines in violation of the court order. Consequently, Justice DadaMo revoked the N25 million bail variation granted to Mompha and also issued a bench warrant for his arrest over his failure to appear in court.
The EFCC had also declared him wanted. The Commission says since June 16, 2022, Mompha absconded from the trial and that it continued with efforts to secure his arrest and appearance in court.
Following his continued absence in court and the inability of the prosecution as well as the defence to produce him in court, Justice Dada had, on September 22, 2022, ordered that the trial would continue in absentia.
At today's proceedings, the counsel for the EFCC, S.I. Suleiman, informed the court that the prosecution, in collaboration with its international partners, had secured the arrest of the defendant.
The EFCC counsel, Mr Suleiman Suleiman, told an Ikeja Special Offences Court that the prosecution in collaboration with its international partners had secured the arrest of Mompha.
"The prosecution will like to bring to the knowledge of my lord that in collaboration with our international partners, we have been able to apprehend the defendant. We plan to take him into custody and to produce him before the court. The counsel for the defendant reached out to me seeking for an adjournment that he will be absent today in court," Suleiman said.
Justice Mojisola Dada, thereafter, adjourned the case until July 3 for continuation of trial.