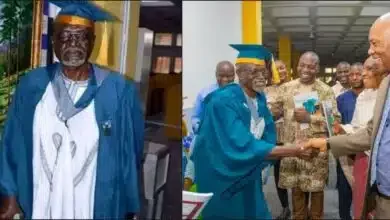 70-year-old former Nigeria's under-20 team coach, Ben Duamlong achieves outstanding academic success as he graduates with a first-class honours degree from the University of Jos (UNIJOS).
Despite his age, he pursued his passion for education after retiring as a football coach, Daily Trust reported.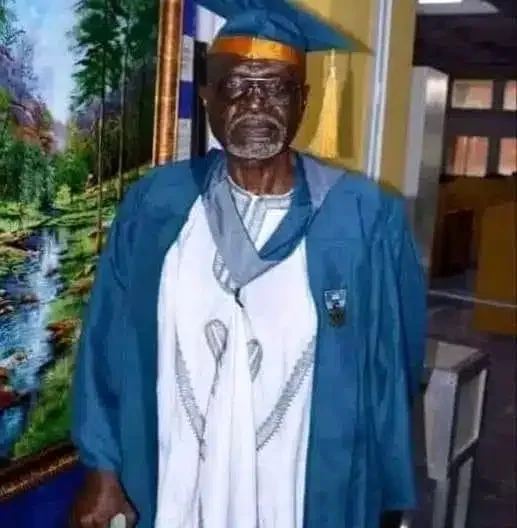 In 2023, Duamlong was one of the 20,532 students who graduated from the university, and he excelled among his peers as one of the 112 students awarded first-class honours.
While studying painting at the university, he showcased his dedication and commitment to his academic pursuits.
Speaking on his reason for returning to school, Ben Duamlong revealed he had a deep passion for art, specifically painting. He added that the knack for drawing had always been part of him, but never had the opportunity to explore painting.
He, however, found himself drawn to the art form and wanted to enhance his skills in that area. After retiring from his football career in 2014, made up his mind to go back to school. He added that pursuing further education seemed like the perfect way to channel his energy and an avenue for his newfound passion for painting.
"What prompted me to go back to the university at this age is because of my passion for art. All my life, I have always drawn but never painted. I like painting. I can draw but I can't paint. So, after retiring in 2014, as a footballer, I stayed home doing nothing. That is why I decided to go back to school," he revealed to a correspondent of Daily Trust.
Reactions trailing Ben's academic excellence
@tfm.digital.initiative wrote: "Ah don't let my parents see this o😩😩😩 what's my excuse 😭😭😭"
@__tayor opined: "It's all about fulfilling his longtime dream, nothing else matters. Education can never be scam ✌️"
@enchif_w stated: "Limitations exist in the mind as long as you can think it you can do .just do it like Nike says Cheers ."
@nelobae30 penned: "If he has the same name as his son it can be transferred like next of kin 😂😂"
@leochard1 wrote: "How you wan see work sir, when retirement age na 70."