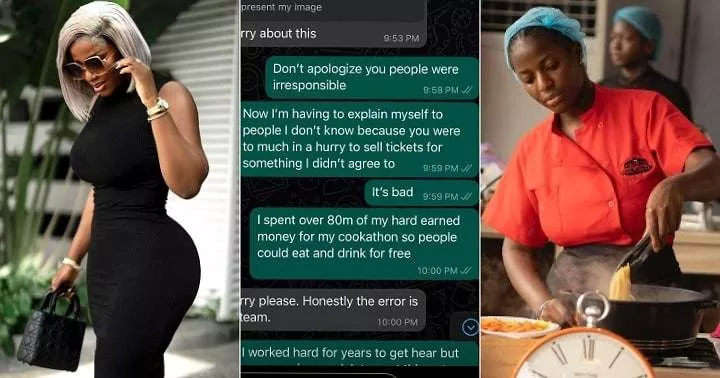 After getting dragged over alleged N25k charges, Hilda Baci has revealed that she spent over 80 million naira on her cookathon event.
The chef shared this information in a WhatsApp conversation with a brand that accused her of causing them losses in their upcoming event.
"I spent over N80m of my hard earned money for my cookathon so people could eat and drink for free," she said.
Hilda also shared the conversation on her Instagram story.
The organization hosting the event had called her out yesterday, causing netizens to bash her.
Recall that Hilda had denied having any knowledge of an upcoming event that was charging her fans N25k for a meet and greet in Abuja.
According to her, her cookathon was meant to provide an opportunity for people to come, eat, and drink. She explained that it was a massive undertaking that required a lot of funds to pull off.
Hilda's revelation has sparked a lot of reactions on social media as some people drum support for the chef while others still bashed her over the event.
The Akwa Ibom chef has been involved in different controversial actions that have triggered criticism from Nigerians all over the country.
See her chat below: