A lady, Angela Mbali, shared a photo of her boyfriend in her family's WhatsApp group chat, and the responses she received from her mother were filled with laughter.
Angela's mother and sister reacted to the photo with voice notes expressing their support and emphasized that her happiness was the most important factor in the relationship.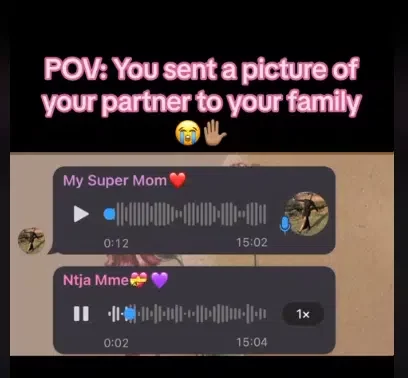 Her mother and sister responded with voice notes filled with laughter and amusement, conveying their happiness and support for Angela's relationship.
In the voice notes, they made it clear that as long as Angela was happy, they were content.
"As long as you're happy", the caption of the post read.
Netizens Reactions...
@THABO said; "Very little was said yet a lot was said as well."
@The Lady Champagne said; "Ahhhhh. That's why I cannot marry a man that is not wonderfully made. My family go laugh me die."
@_jepkemois said; "I swear I would break up with him immediately."
@Khanyi said; "Yoh, I'd leave the group and move out of the planet."
@kgalalelo said; "Nka mo dump'a immediately."
@georgieee said; "I'll cry in alphabetical order."
@JuniorD said: "They still didn't have words even at the end."
@Isabel said; "They just know his name, there's no need for image sharing."
See below;
https://www.tiktok.com/@bigfoot.s_daughter/video/7284708734507453702