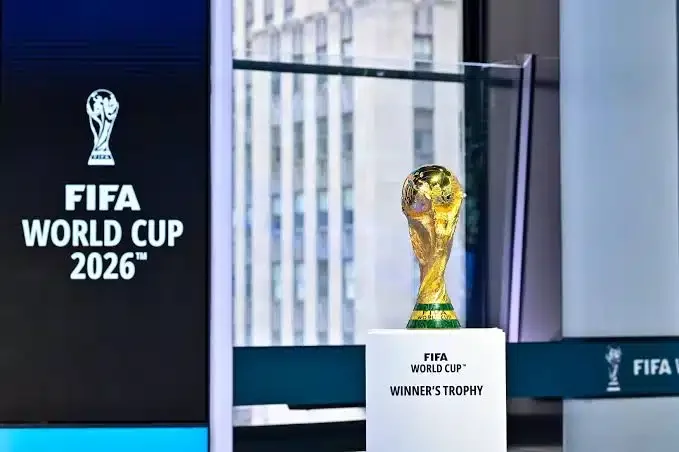 The ceremony for the 2026 World Cup qualifying round draw for African teams will take place in Abidjan, Ivory Coast, on Thursday (today, July 13).
The 2026 World Cup qualifying round draw for African teams which will take place immediately after the 45th CAF Ordinary Assembly could pair the Super Eagles of Nigeria against some of their fiercest rivals including Ghana, South Africa, or Angola.
Africa will use a one-stage World Cup qualification system for the 2026 edition of the tournament, which will be co-hosted by the US, Canada, and Mexico, according to a statement from the Confederation of African Football.
Under the new CAF format, which was accepted by the Executive Committee, the 54 Member Association teams would be split into nine groups of six teams each.
The group winners will move on to the World Cup since Africa's berths have been increased to nine teams, with the 10th team qualifying via a playoff system.
The four top runners-up will be chosen at random in a mini-playoff to determine one more team that will advance to the Intercontinental playoffs.
For the 2026 World Cup qualifying round draw, the Super Eagles are seeded in Pot 1. The same pot cannot be used to select two teams. This means that the Eagles will automatically avoid Senegal, Tunisia, Algeria, Egypt, Cameroon, Mali, and Ivory Coast, who are all in Pot 1, as well as Morocco, who created history by being the first-ever African nation to reach the World Cup semifinals at the most recent edition of the tournament in Qatar.
Now that some of their biggest rivals are in other pots, the three-time African champs might have to confront some of them.
Ghana stopped Nigeria from qualifying for the most recent World Cup in Qatar based on away goals rule, and they are seeded in Pot 2 for the draw together with Burkina Faso, South Africa, Cape Verde, DR Congo, Guinea, Zambia, Gabon, and Equatorial Guinea.
The Black Stars held the Eagles to a scoreless draw in Kumasi before holding them to a 1-1 tie in Abuja to guarantee their spot in the 2022 World Cup.
Before then, the Super Eagles were prevented from qualifying for the 2006 edition by Angola, who are pooled in Pot 3 with Uganda, Benin, Kenya, Mauritania, Congo, Madagascar, Guinea Bissau, and Namibia.
Sierra Leone, who have recently been a tough opponent against the Super Eagles, or Central African Republic, which defeated the Eagles at home in Lagos for the first time in more than 40 years in 2021, might be two more difficult opponents for Nigeria.
While Mozambique, Gambia, Sierra Leone, Togo, Tanzania, Zimbabwe, Central African Republic, Malawi, and Libya are in Pot 4, Niger, Comoros, Sudan, Rwanda, Burundi, Ethiopia, Eswatini, Botswana, and Liberia are in Pot 5.
Lesotho, South Sudan, Mauritius, Chad, Sao Tome, Djibouti, Seychelles, Eritrea, and Somalia are included in Pot 6 of the 2026 World Cup qualifying round.